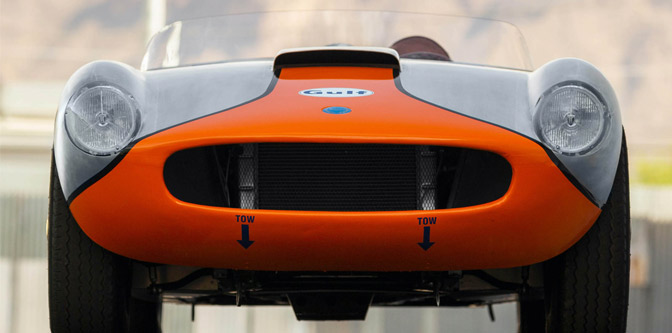 In 1959, famed race car designer and builder John Tojeiro, began the process of fabricating what would be the last of his front engine cars. He utilized a tube-frame chassis inspired by the dominant Jags of the time, a coil spring front suspension, and a De Dion rear. For the body, he called up Cavendish Morton to hammer up some aluminum inspired by the Ferrari 250 California Spider.
Before finishing the car, John got distracted by a mid-engine design and the project was put on hold. Years later, John Muller found the abandoned Spyder in the UK and had it shipped to the United States for finishing.
But why in the hell am I focusing on a British built race car on The Jalopy Journal? This is actually where it gets both interesting and relevant. See, Tojeiro had always intended for the Spyder to be powered by an American "power unit." In fact, motor mount clues lead John Muller to go with what he thinks Tojeiro had in mind – a big 302-inch GMC straight six.
The result is a relatively light race car (under 2000 pounds) that has decent (though not perfect) balance, and bullet proof power. The GMC motor makes over 300 horsepower and gets its 325-pounds of torque down low in the rpm range. It's a short course beast and in 2018, the car dominated the SVRA National Championship – smoking many Ferraris and Jaguars along the way.
By coincidence, I actually had the opportunity to drive in anger along side this Spyder at the Circuit Of the Americas in 2018. We were doing practice laps in far different classes/cars, but even then I was struck by how the little car leapt out of corners. American power with European sensibilities for grip and balance is typically reserved for legends… Seeing it from a "cottage-built" race car was awe inspiring.
Anyway, I thought you guys might appreciate the Tojeiro California Spyder as a source of inspiration. It's a period car built using techniques and parts that we don't often see used together. It's as creative as it is beautiful.